Special Olympics: A Championship for Special People
imatge:
Kullayamma finishes its badminton training and grabs a bottle of water.  Her coaches give this fifteen year old girl a truce.  There are only 2 weeks left for the championship to start and it's not advisable for her to exhaust herself right before the official matches.  The Los Angeles 2015  Special Olympics Games (Olympic games for people with intellectual disabilities) are right around the corner.  And she would like to finish her intense sports career at the top. But in this case, to win a medal is not the important thing to do.  The most fundamental purpose is that besides his disability, she has increased her self esteem and she has gained respect from everyone in her town.
Exactly this is the objective of the Special Olympics Project from the Vicente Ferrer Foundation:  To empower people with intellectual disabilities through sports, to improve their autonomy, the physical condition, and  by achieving their goals, to increase their social recognition and their quality of life.   This program, integrated in the Sports and Disabilities project from the foundation, started in 2010.  During that year, a collaboration work starts among professional trainers from Spain and educators from India, bringing as a result the participation of two athletes with intellectual disabilities at the Athens Special Olympics 2010, who obtained two gold medals, one silver and one bronze medal. 
The following year (2011) a physical education program was put in place in all of the centers for people with disabilities.  "After seeing this is a good way to change the reality of many people with intellectual disabilities, we tried to give more opportunities to as many people as we could", says Enric Romaguera, Special Olympics coordinator. 
This way, 1,400 boys and girls started to practice physical education for the first time.  With the creation of this project, and the good results from using sports as a tool to integrate people with disabilities collective, some selection tests were done to continue to form athletes.  Kullayama was one of the seven girls that started at Foundation's Special Olympics Academy.  At the time the girl was 11 years old and was living in a center for people with disabilities.  During the tests, she was highlighted and "gifted for sports", confirm her coaches. 
As time has gone by, Special Olympics has increased to the current number of 34 youngsters -17 boys and girls- and they train up to seven different disciplines;  besides badminton, they also practice ping pong, weightlifting, volleyball, basketball, soccer and handball.  Many of the athletes have already participated with the India's national team, in national and international competitions.  The young athletes from the FVF have won medals in the tournaments and have returned home with the athletic recognition.  This way the objective of the program has been achieved in great measure:  social recognition and empowerment.
Like other athletes, Kullayamma returned victorious.  In Australia 2013, she won three gold medals during the special olympics in Asia and Oceania.  "In my town, no one valued me and barely spoke to me.  Now when I go home everyone wants to come close and they ask me what do I do and where am I going.  I am very happy with this change" she says proudly. 
Now, her next goal is to win the gold for badminton in Los Angeles.  Along with her twelve teammates, she will participate in the most important international tournament in her category.  She will compete and cohabitate with another 7,000 athletes with intellectual disabilities proceden from 170 countries around the world.  The students from the Special Olympics Academy will swap the red and dry fields from Anantapur for one of the highest luxury cities in the world. 
Although there are 21 teammates of Kullayamma that have not been selected by the India national team for Los Angeles 2015, they also have been working hard during the last few years and have won tournaments in India.  "When we go back from the Special Olympics, we are going to visit town after town to tell everyone, family and neighbors, that they did it, that they are capable of anything" says Enric Romaguera.  In this project, they are all important, not just the one that gets the medals. 
Athlete's Future Employment
As Romaguera notes, they don't want athletes and the Special Olympics Sports Center, but a place for people where, besides their intellectual disability, they have access to a future with equal conditions.  To achieves this, this year they have launched a project for professional development for 34 sportspeople, to achieve autonomy once they finish the sports cycle. 
The professional education they receive tries to give them tools  to improve their process of integration and job placement.  Kullayama for example is enjoying a lot cooking classes.  Her coaches  say that she usually helps the Academy chef.  She is also receiving info in carpentry, plumbing, or agricultural techniques, since 75% of the population in Andhra Pradesh works in the fields.  As a complement, they also have classes in literacy, english or mathematics. 
Her skills, her sports level, and her academic development have helped Kullayamma to get a job as coach assistant in the same program where she has been competing.  Her future and the future of thos 34 athletes in the project is still pending to be written, but the truth is that it will be them, and not the prejudice of others that will write the pages of that future.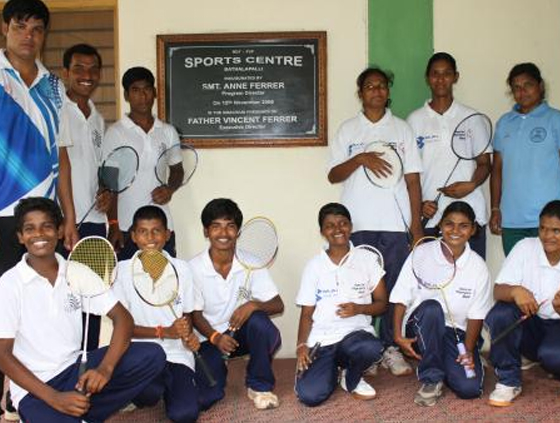 News - What's happening?
07-01-2016
Anne Ferrer, who has been working as a social worker in rural parts of Andhra Pradesh, received the Jamnalal Bajaj Award 2015 for her contribution in the field of development and welfare of Women and Children in India.
20-11-2015
The telephone rings. It is the 1,098 time the VFF staff in India answer the urgent needs of the community using the anonymous help line. 24 hours, 7 days a week urgent calls of a wide variety come in and much needed support is given immediately.