The Sangham Gives Women Confidence, Respect and Freedom
imatge:
"If it wasn't because of the sangham this town would still be like it was 30 years ago:  without opportunities for developing, and without autonomy for women".  With a joyful tone Peddakka speaks, a young leader of a women association (sangham in telugu).  She is right when she says that these groups are changing society in rural India.  The women have achieved autonomy and respect by men.  And once they improved their quality of life, everybody else's also improve. The sangham has given us confidence, respect and freedom."
A sangham of women has as objective the creation of a space where they can talk about their problems, share their worries and seek advice.  Years ago women didn't go outside of their homes and didn't share with their neighbors.  They didn't have money.  Now, through the sangham, they can request microloans to start their own small businesses (buying buffaloes, or the creation of food kiosks) to be independent economically.  There is a whole process of change. 
"Since the sangham was created we have gained confidence, value, strength.  We have achieved all of that along with respect from society and the freedom of being able to go out to the streets", says Bhulakshmi, another leader that studies history and milestones of the sanghams, along with Peddakka, Vannuaramma, and Sereda, also leaders of associations in P.Yaleru, in the area of Atmakur.  
Drivers of ideas in their villages
In this small town of almost 600 inhabitants there are 12 sanghams that congregate 147 women.  From each association, their members have to chose 2 leaders, that receive information about conflict resolution, women's role in development, or in relationship to gender violence.   "After forming the groups we have understood that our children need to be educated.  We also know that we need to go to a sanitary center if we get sick.  And we are not afraid to go to the police or a government office to ask for what is ours". 
The empowering path goes through the micro-loans - with an interest of 0%- that offer so many opportunities and changes to the towns benefited by the VFF projects.  "With that money we buy female buffaloes to sell milk.  Other women have acquired acres of land so they can cultivate their own crop.  With the micro loans business start opening, like wicker baskets or incense businesses" says Peddakka.  "For example, I had been working most of my life in the fields of a landowner.  Now I am autonomous because I created a fabric business and I also sell saris". 
This process takes women to another important spot.  Respect from men.  "From the moment we started having our own businesses and we were able to contribute economically at home our husbands respect us more, they support us.  Half of the women have transformed their families.  They intercede so their opinion is equal to their husbands, and for the children to be educated.  Although we have to admit that not all of the women have been able to do this, and even less those that live in big families, where father in law and brother in law's exert great family pressure", points out Vannuramma.
One of the biggest problems that they blame their situation to is the generalized analphabetism among women.  "I got married at 11 years old and I abandoned school.  But my daughter will finish her studies and it won't be until she is 18 that I will look for a husband for her.  The importance of education I learned it at the sangham", points out Vannuramma.
All the women in the village work to improve everyone's lives.  That way the were able to get electrical network, roads, or something as basic as water.  They know that if they start improving their own generation, they can improve the life of those coming ahead.  "Our objective is that our daughters don't get married until they finish their studies.  We also expect that our descendents can have all the respect and freedom they deserve", says Serada.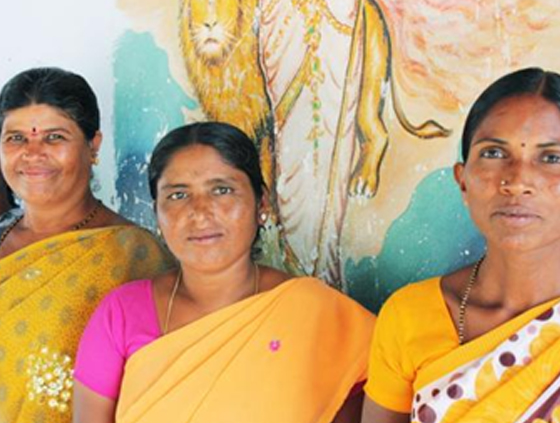 News - What's happening?
07-01-2016
Anne Ferrer, who has been working as a social worker in rural parts of Andhra Pradesh, received the Jamnalal Bajaj Award 2015 for her contribution in the field of development and welfare of Women and Children in India.
20-11-2015
The telephone rings. It is the 1,098 time the VFF staff in India answer the urgent needs of the community using the anonymous help line. 24 hours, 7 days a week urgent calls of a wide variety come in and much needed support is given immediately.