Shirisha Wants To Be A Teacher
imatge:
Shirisha:  "I really like studying and I want to be a telugu teacher"
"I am nervous", says Shirisha to Saranamma, her mother.  And it's no wonder.  Next week she will leave the place that has been her home for the last 8 years and will start studying at the Junior and High School of Inclusive Education from the Vicente Ferrer Foundation (VFF).  Her mother has come from Dasuludiki, her town, four days ago to help her move into the school. "I have doubts about how she is going to do, I am ready to know if she will be able to be own her own", confesses. 
But Shirisha has it clear.  "I wake up at six in the morning, I brush my teeth and I take a shower on my own.  I get dressed and apply the talc face powders" explains with satisfaction.  After that, her caretakers put a bindi on her forehead and braid her hair.  Today her mother has brought jazmin to put it on her hair. 
Saranamma heard about the Foundation through the vikalangulasangham in her town.  These associations for people with disabilities work like a support forum to reinforce their identity and fight for their rights.  I realized that something was happening to Shirisha when she turned one year old:  She couldn't sit up or walk", says.  Then, a physiotherapist that worked in the disability sector taught her how to do the exercises that her daughter needed to do at home.  Six months later, when there was an opening, Shirisha got into one of the three centers for boys and girls with cerebral palsy, intellectual disability and autism from the VFF. 
Since then she shares routines with 40 other classmates.  "In the morning we practice yoga.  I am not into it, but it needs to be done", she points out.  "Two days a week I go to the public school.  I really like studying.  When I grow up I want to be a telugu teacher (The native tongue from Andhra Pradesh), I practice helping my classmates with their homeworks" she says confidently while she laughs.
When she comes back from school the physiotherapy and rehabilitation sessions start, they last from 40 minutes to an hour at the center's adapted gym.  "I know my legs are weak and full of contractures.  They hurt, but I think I am improving little by little", she says while she points to her muscles.  After that, they put a prosthesis from the orthopedic workshop to keep her upright.  "I am on my feet for a long time, I even do the shores on my feet", says upset.  Shirisha needs to potentialize her muscles on both legs so she can keep her balance.  "I can walk by myself short distances", claims doing a demonstration in situ of her abilities, "but normally I use my walker".
Her mother also has obligations in this process.  On the 25th of each month, she and the rest of the families visit their daughters and sons and receive training from the Foundation staff, in which they share their emotions and questions.  The idea is that when they go back to their towns they can transmit what they have learned to their neighbors:  in this way they do a prevention labor and contribute to end with social stigma.  "I am not ashamed anymore because I have a daughter with cerebral palsy", says Saranamma. 
Shirisha and Saramma are a good tandem of fighters.  Both are making efforts so Shirisha can strengthen her mobility and coordination.  And to help her independence process.  "Are you happy with the new school?, asks her mother.  "Yes, mom.  Happy and nervous", answersShirisha.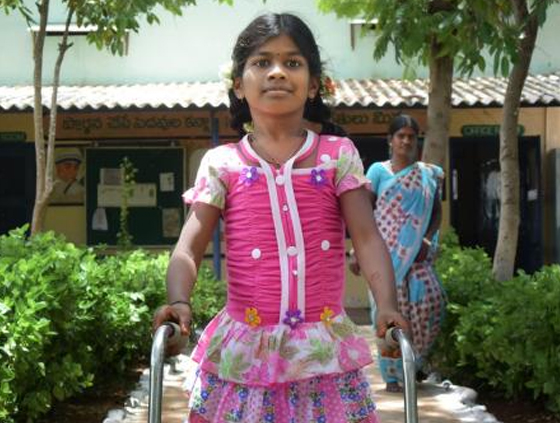 News - What's happening?
07-01-2016
Anne Ferrer, who has been working as a social worker in rural parts of Andhra Pradesh, received the Jamnalal Bajaj Award 2015 for her contribution in the field of development and welfare of Women and Children in India.
20-11-2015
The telephone rings. It is the 1,098 time the VFF staff in India answer the urgent needs of the community using the anonymous help line. 24 hours, 7 days a week urgent calls of a wide variety come in and much needed support is given immediately.