New home, new life
imatge:
Among the 200 homes in YellammaguttaThanda, a town of 1.200 inhabitants, there are 76 blue homes that stand out, new construction, built by the Vicente Ferrer Foundation.  The inhabitants of this village located in the Pattikonda area belong to the sugali community, a tribe from North India.  They migrated several generations ago to this arid region from the Kurnool district where only shrubbery, peanut crops and where there is drip irrigation system, you can also find some mango crops.  
Most of the inhabitants lived in kutcha homes until now, a traditional house built with weak materials, like mud or straw.  Due to the low quality and poor insulation, these homes don't provide enough protection against inclement weather.  Access to decent housing is a factor that has direct impact on people's quality of life, and their ability to enjoy second generation rights:  economic, social and cultural.  This is why, the Foundation identified families that lived in the worst conditions and assessed them on how to apply to request parcels from the Government.  The land where the houses were built is registered under women names, to guarantee their autonomy and independence inside the family core.
Besides registering the house under the women names, "the Foundation asks the families receiving these homes, to engage and collaborate with the construction of the houses", explains Lakshman Rao, coordinator of the VFF in Pattikonda.  "Also, at least one of the members of the family must participate in one of the groups in the community", for example the sanghams, adds Lakshman.
In 42 years, VFF has built homes for 58,176 families in the districts of Anantapur, Kurnool, Prakasham and Guntur in Andhra Pradesh; andMahaboob Nagar and Nalgonda in Telangana. 
Swammynaik and Nagammabai can't wait for so long.  In the porch of their new home there are two cement cubicles:  a latrine and a shower.  Next to it, a worker is digging a huge hole for the septic tank.  The two daughters of this couple that work on the field study out of town, and live in a boarding school.  "Our daughters asked for the bathrooms.  They are educated and have lived abroad, they don't accept to have to relieve themselves in the field anymore.  The oldest one said she would only come back home during holidays if we have the bathroom ready.  I went ahead and requested the subsidy on my own", explains Nagammabai.  Their new home is a source of pride for Nagammabai.  "We are field workers and we work 2 acres of land.  Is a tough job and at least now when I go home I can relax.  I am not afraid that the hut could fall on us all of the sudden"  confesses.  © Nagappa
Case 1
During the first 15 years of his marriage, Ballunaik and his wife Lashmibai lived with their three children in this traditional house.  "We built the house ourselves, this small terrain belonged to my parents", explains Ballunaik.  The hut has a space of 24 m2 divided into two parts, with a small kitchen separated by a wall.  "The biggest problem from the old house was the leaks; Every time it rained, it would flood.  If we were sleeping we would get wet.  We had to put plastic sheets and cuddle in a corner.  We were sick often.  Every year we had to change the roof and it costs somewhere in between 5.000 and 16.000 rupees (between 70 to 220 €)", a expense difficult to cover for this family of field workers.  © Nagappa
Case 2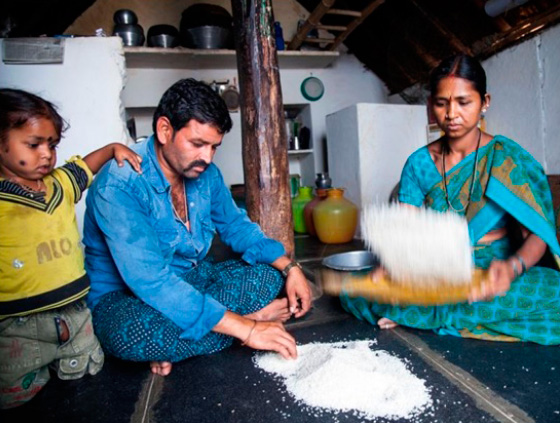 "When we cooked, the house would be filled with smoke and there was not enough ventilation, we had breathing difficulties" says Laskshmibai, who now uses the old house as a kitchen and storage only.  "I also worried a lot about the safety of my children, because the house is so low, last year a snake got into the house.  Anginaik, my youngest son was still a baby", she adds.  "Before, the kids didn't want to play inside, they would walk around town and it was hard for me to keep an eye on them.  Now they rather stay at home and play here.  It makes my life easier", concludes Laskshmibai.  © Nagappa
Case 3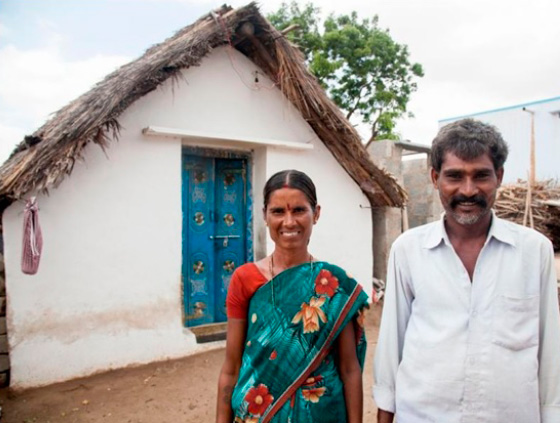 Venkatanaik and Munikibai, 45 and 30 each, lived in very similar conditions in a kutcha almost exactly the same as the one of Ballunaik and Lakshmibai.  They had the same problems in common with their neighbors:  the leaks, the insects and reptiles, and the smoke… Two months ago they moved into their new home.  "Before, when our relatives came to visit us they felt uncomfortable and didn't stay for too many days with us. Now they come and they feel jealous.  They asked us about the Foundation so they can also build homes in their town" says Munikibai. © Nagappa
News - What's happening?
07-01-2016
Anne Ferrer, who has been working as a social worker in rural parts of Andhra Pradesh, received the Jamnalal Bajaj Award 2015 for her contribution in the field of development and welfare of Women and Children in India.
20-11-2015
The telephone rings. It is the 1,098 time the VFF staff in India answer the urgent needs of the community using the anonymous help line. 24 hours, 7 days a week urgent calls of a wide variety come in and much needed support is given immediately.