Illiterate Parents, College Children
imatge:
Anantapur región will remember the last 30 years as those of the generational change.  During the 60's nobody cared about education.  Now is one of the main goals for the family.  
"Without education there is poverty", ensure Lakhsmidevi and Adinaera, Haritha's parents.  They are two people that were born in a time where only people with money were able to study.  Adinaera, like so many other kids at the time, stopped going to school when she was eight years old to help her family's economy.  "Since I was 13 years old I have been a taylor while the ones that studied have been able to get better jobs, but because I didn't study…", sighs Adinaera.  Lakshmidevi, only for being a woman, never got to go to class.  Like the majority of the girls her age, her place was to be home taking care of her little siblings and doing home chores.  
This tendency is changing.  An example is her daughter Haritha.  At 18 years old she has finished her high school education and this semester she starts her career in Civil Engineering.  Like many of her friends, she is a student and she has no intentions of getting married "at least until she is 28 years old".  The awareness work carried by the Vicente Ferrer Foundation has achieved that the families give importance to education.  The parents that used to leave their daughters/sons at home and used to see some of the neighbors going to school have accepted the benefits of schooling.  "When our older daughter was born, she is about 30 years now, we didn't have the same idea we have today about the importance of being educated.  But with Haritha it was different, all the families are schooling the children", says Lakhsmidevi.  
"Back in my parent's time there were other circumstances, and not so many opportunities.  Now is very different.  My generation has to take advantage.  Things have changed.  We are the ones explaining to our parents the value of education", says Haritha.  The girls and boys with education will improve this town and this region", adds Adinaera.  
The road to change
The long distances between towns and educational centers and the gender discrimination explain why the literacy rate was so low a few decades ago in Anantapur.  "It was simply not understood:  ¿Girls… study? ¿Why?, the objective of the girls was to get married have children, take care of the husband and the house.  This was the parent's answer", explains Anna Ferrer, Vicente Ferrer Foundation President, in the book "Pact of Love".
"Haritha has studied her high school in Vijayawada, about 500 kilometers from here.  ANd our oldest daughter didn't go to school because it was five km away from home.  ¡You see how everything has changed!, says Adinaera laughing.  
Since 2004 the Foundation has given a total of 2,449 scholarships to students who, like Haritha, have been able to get the public exams best grades in their 10th course promotion.  The student obtains 100% of financial support to pay for the enrollment, room and board and living expenses.  
"I don't know how my life would have been without the Foundation", reflects the young student.  "My education has motivated me and now I know a lot of things that my parents don't know about.  They were not able to receive education, and they didn't get the knowledge, for example if they were ill they needed to go to the health center.  Now we know the reason of things", concludes Haritha proudly.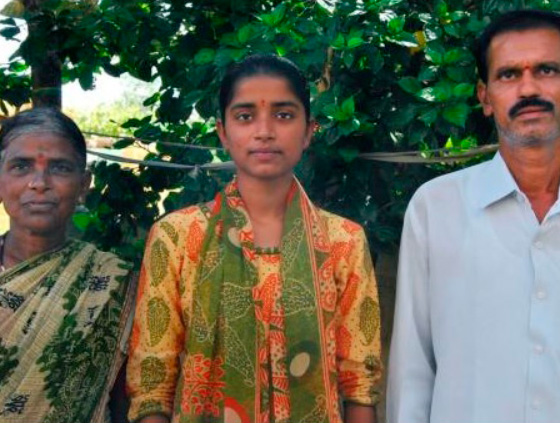 News - What's happening?
07-01-2016
Anne Ferrer, who has been working as a social worker in rural parts of Andhra Pradesh, received the Jamnalal Bajaj Award 2015 for her contribution in the field of development and welfare of Women and Children in India.
20-11-2015
The telephone rings. It is the 1,098 time the VFF staff in India answer the urgent needs of the community using the anonymous help line. 24 hours, 7 days a week urgent calls of a wide variety come in and much needed support is given immediately.