Kiran Kumar: "Some people think that if a molar is extracted from them they will go blind"
imatge:
Each morning several tenths of patients stroll in Vicente Ferrer Foundation (VFF) dental service center located in Kanekal. Kiran Kumar is one of the dentists. From a tribal origin and at 26 years old he has a personal growth story to tell: he was able to study a professional career based on persistence.  "For me, to make an effort means not quitting until you have achieved your goal".  Now he works at VFF instead of his own private practice, where he could have had the opportunity of receiving a higher salary.  
¿Which are the most common oral problems?
Cavities, yellow teeth due to excess of fluorine in water and periodontal diseases.  The last ones affect the tissue that support the teeth and they can produce decay of the teeth.  We carry a lot of oral diseases due to the lack of hygiene, like gingivitis or periodontitis.  I am optimistic and I think these problems will decrease when people become more aware of the importance of oral health.  
¿Does the local community have a good oral hygiene?
In general, they have very low oral hygiene because it's something they are not concerned about.  When patients come to the center, I see time and again teeth that are not properly cared for.  There are very few that are conscious about the importance of good oral hygiene habits, but I think that little by little, education of democratization is working, and  each time there is more people that know that oral hygiene is important to prevent diseases.  
¿What is the hardest thing to deal with during a consultation?
The lack of conscious is our biggest problem and the superstitions that make the process difficult.  I always explain to the patients that there is not a scientific relationship proven between the superstitions and reality but it requires a change in mentality that will come little by little.  For example, some people think that without the upper teeth they will go blind.  Our biggest challenge is to make them understand the necessity and the importance of the treatment.  To convince them we have to explain it to them repeatedly and in different ways. 
¿How is your day to day?
At 8:30 I see my first patient.  I treat between 15 to 20 patients per day in the practice, although the number is increasing and more people are coming.  I work on things like teeth extraction to wisdom teeth and endodontics.   Also prosthesis, draws and cleanings.  I also go to the towns to give them diagnostics on the field for people with low income.  On those days we see about 100 people on our "mobile consultation".
¿How did you end up studying dentistry?
I am here thanks to my parents and their efforts.  My parents sent us to live in a city with my grandmother so my two sisters and I could study.  After finishing high school I took the test to enroll in University, but I didn't get the grade I needed, so I tried again and I was able to get into the Dentistry Faculty, where I studied for five years with a scholarship from the Government.  
¿What would you like to do in the future?
I think the sanitary system in India needs a lot of improvement.  I would like to contribute to improve the quality of life conditions of people.  I am a happy being a dentist, but I am not satisfied.  I would like to have a role on public service.  Although there is a long way for that, I have to save and prove myself to the opposition.  Ah! And learn a fourth language.  
¿How did you hear about the Foundation?
My nephew was born in the VFF Bathalapalli Hospital, which I thought was incredible.  So I can say I got to experience the work of the Foundation first hand because I understood the way they contributed to our development.  Besides, I had friends in University that were able to study thanks to the Foundation scholarships.  I was also surprised to see so many people coming from Spain to help my people.  I decided to submit my resume.  
¿What do you value the most about working for the VFF?
I feel very comfortable with the way the Foundation works.  Our work methodology is very good because we give our patients permanent solutions that end pain, not only medications to stop it momentarily.  Besides, the lower casts that are not able to pay receive the treatment for free and the rest pay very little.  I am not interested in money, I know it is only useful to obtain things, but not to be happy.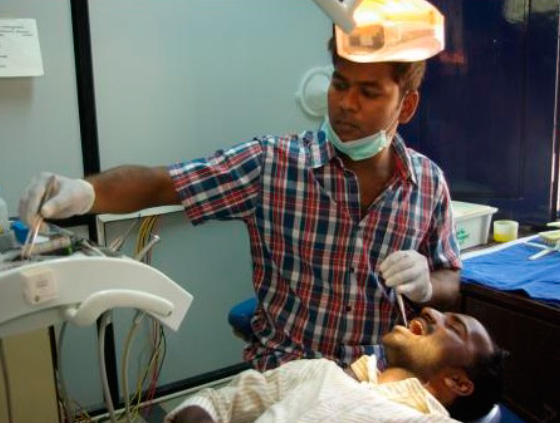 News - What's happening?
07-01-2016
Anne Ferrer, who has been working as a social worker in rural parts of Andhra Pradesh, received the Jamnalal Bajaj Award 2015 for her contribution in the field of development and welfare of Women and Children in India.
20-11-2015
The telephone rings. It is the 1,098 time the VFF staff in India answer the urgent needs of the community using the anonymous help line. 24 hours, 7 days a week urgent calls of a wide variety come in and much needed support is given immediately.