Lakshmidevi: "I want my daughter to study so she can have a good future. I don't think about anything else."
imatge:
Kavitha's family dynamic is complex.  While her siblings and mother communicate in telugu, her father and her communicate through signs.  Kavitha, the family's second daughter from Dalit caste in the Chintalapalli town, in Anantapur, suffers from severe deafness since she was born.  She is one of the 245 girls that study at the elementary school for girls and boys with hearing disability that is part of the Vicente Ferrer Foundation (VFF).
When she was two years old, the family realized she couldn't hear.  "When we called her name she wouldn't answer.  We would throw little stones so we could get an answer, or we would tap her back", says Lakshmidevi, her mother.  Kamalakar, the oldest brother didn't have any auditive problem, we didn't think she would have one.  When she was 6 years old, she enrolled school, where she was able to study until second grade.  "The teachers didn't know sign language and were not able to communicate with her, so she would just sit in class and she would follow what was written on the chalkboard, but it wasn't much", explains Lakshmidevi.  In the afternoon, her and her oldest brother attended the VFF school to reinforce learning.  
In 2006, the Foundation implemented the disability program in Kavitha's town.  The people with disabilities' community organizer visited the reinforcing school often and he realized Kavitha's situation and how important it was for her to received education adapted to her needs.  Soon after, she enrolled in the school for girls with hearing disabilities and is currently on 5th grade.
Her father didn't have the same luck.  Completely analphabet, Pullana, about 40 years old, works as a field workers.  "He owns a piece of land that used to belong to his parents, but because it has not been split among the siblings he can't cultivate it yet", explains Lakshmidevi, his wife, who always intervenes on behalf of her husband.  Pullana has no formal education on sign language, but he gets his point across with very basic and improvised gestures enough to get him by.  But the gestures he uses are not enough to allow him to get out of the confinement where he has lived all his life.  "When we got married, his family helped me understand him.  They were more used to communicate with him.  When the kids were born, we moved to a different house.  Alone, him and I, the communication became harder", remembers Lakshmidevi, who is uneducated as well.
Pullana is member of the vikalangulasangham in his town (people with disabilities association), but he hasn't been to a meeting for a while.  "I attend for him.  He doesn't want to go to the meetings because he doesn't understand anything, he feels isolated", she confesses.  The community organizer, who was present during the interview and is always trying to make people conscious of the importance of these groups scolds her:  "It's important that the one attending the meetings is your husband, so he can feel integrated and he can share his problems with other people".
The difference between Kavitha's attitude and her father's are abysmal.  She is jovial, open, and pays a lot of attention to everything happening around her.  As opposed to her father, she can communicate perfectly using sign language.  Minors with disabilities are a very vulnerable group in India's society.  Access to education is preparing Kavitha  to overcome challenges and to make sure she will have opportunities in the future.
To be able to attend school, Kavitha has to live in the residential center of BukkarayaSamudram, about 70 km away from her town.  "She only comes back home once every two months and when she has to pick up the Government subsidy", says the mother.  This makes her father sad, who expresses with signs how happy he feels when Kavitha is with him.  He doesn't feel so isolated.  He has someone to talk to; Someone so close and that understands his situation.  "It's a shame that she is far away, but I want for her to study a lot so she can have a great future and a job.  I don't think about anything else", confesses her mother.  
Besides the BukarayaSamudran center, the Foundation also has three elementary schools for boys and girls like Kativha.  In 2008, the high school institute was also inaugurated, where about 230 students attend.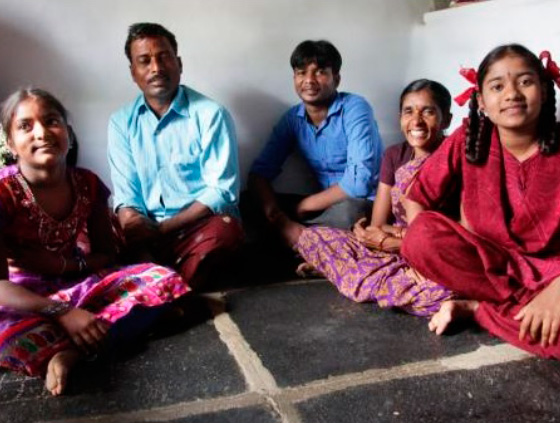 News - What's happening?
07-01-2016
Anne Ferrer, who has been working as a social worker in rural parts of Andhra Pradesh, received the Jamnalal Bajaj Award 2015 for her contribution in the field of development and welfare of Women and Children in India.
20-11-2015
The telephone rings. It is the 1,098 time the VFF staff in India answer the urgent needs of the community using the anonymous help line. 24 hours, 7 days a week urgent calls of a wide variety come in and much needed support is given immediately.